When it comes to protecting your business - not just your building, but everyone under its roof - go with the best. All Star Roofing has been providing commercial roofing installation to Smyrna, Murfreesboro and Nashville for more than 21 years. Our commercial roofing services include repair, replacement, storm damage, maintenance, and more.
Locally and family owned and operated, All Star Roofing is a preferred manufacturer for major brands including IKO, Owens-Corning and TAMKO. We like to say that 'we don't install roofs - we install roofing systems." These roofing systems come with 50-year extended warranties.
If you've suffered roof damage either from the test of time or a recent storm, call us for fast and professional service. We aim for same-day service and treat your property as if it was our own. Each job is personally inspected by the business owner to ensure top-notch quality.
Types of Commercial Roofing Systems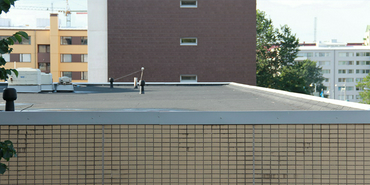 Flat or Low-Slope Roofing
Flat roofs are growing in popularity because of their potential energy savings and can be repurposed into additional living space or green roofs (roofs covered in vegetation). Low-sloped roofs common commercial roofing type can be found in factories, warehouses, apartment buildings, and townhouses. One of the main reasons for a commercial low-sloped roof is to ensure proper drainage.
Commercial Roofing Materials
Commercial Roof Installation Process
While every commercial roofing project is different, they typically all begin with a very specific in-depth plan from the roofing contractor. The building owners will select the best roofing system for their needs after learning about the different types. Your choice of roofing system will depend on the architecture of the building and the type of business that you have. Climate, energy efficiency needs and budget also will be factored into the decision. Once your roofing contractors complete the job, the work area will be sweeped with magnets and the owner will review the job to ensure it was completed up to standards.
Praises for All Star Roofing
This owner and his company are an elite group of people, who know how to install a roof and get a high quality finished product. You will be impressed with the workmanship of his team and the quality of the product being used for the particular job needed.
Service is in the name. From the time I met Steve till after the job was done, I was very impressed. Steve handled the insurance company and made everything so easy. The new roof looks absolutely beautiful and would highly recommend All Star Roofing to anyone looking for gutters, siding, or a new roof. I can't thank y'all enough for everything!
We do roofing repair and replacement, and so much more!
Certified by CertainTeed, Owens Corning and GAF, we also have an A+ rating with the Better Business Bureau. We're the only stars you'll want to sleep under! Contact us now for all your roofing needs!